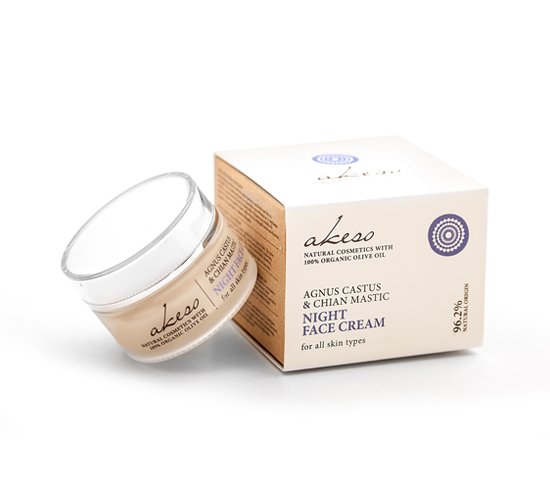 AKESO AGNUS CASTUS & CHIAN MASTIC NIGHT FACE CREAM 50ml
Διαθεσιμότητα : Άμεσα Διαθέσιμο
€35.00
information
A remarkably nourishing night cream, suitable for all types of skin. The dynamic combination of olive oil, osier, Origanum dictamnus, Chian mastic, Argan oil, and avocado nourishes the skin throughout the night and helps improve its elasticity. Apply every night on cleansed skin.
ingredients
Chian Mastic: On the island of Chios, centuries-old trees produce a resin that falls from the trunk in the shape of tears. This resin has all the power and countless cosmetic and medicinal properties. The cosmetic effect of Lakesis improves cellular activity, resulting in tightening, regeneration, and recovery of the epidermis.
Agnus Castus: It is shrub widespread in the Greek countryside and is among the top plants of female fertility. The active substance happybelle PE, which is made up of natural endorphins, when placed in a carrier reaches the deeper layers of the skin, so it moisturizes, stimulates and makes the skin looks gentle, shiny and relaxing.
usage
Apply a small amount every night on cleansed skin with gentle circular movements. Avoid eye area.
For better results previously use anti-aging AKESO serum.