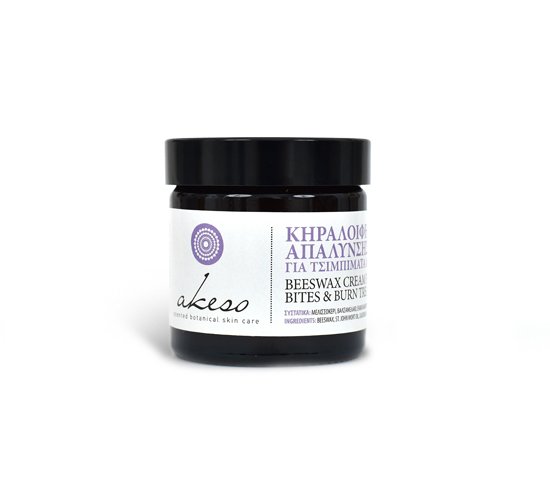 AKESO BEESWAX CREAM FOR INSECT BITES AND BURN TREATMENT 60ml
Διαθεσιμότητα : Άμεσα Διαθέσιμο
€12.00
information
A double action beeswax cream for solar/ thermal burns and insect bites. Immediately heals and regenerates the skin from sun burns and relieves from insect bites too.

(THERMAL / SOLAR BURNS)
St. John's wort oil known for its soothing and powerful healing action relieves from irritation, inflammation and pain caused by mild burns, while aloe due to its natural analgesic and anti-inflammatory properties helps to reduce scarring

(INSECT BITES)
Geranium essential oil with its powerful anti-inflammatory and healing properties helps reduce swelling after bites. Combined with the essential oil of mint, it relieves the burning sensation giving a cool feeling to the area. At the same time lavender and lemongrass with their anti-allergenic and healing properties relieve and nourish the skin.
ingredients
Beeswax, St. John's wort oil, calendula oil, aloe vera, Vitamin E, essential oils of geranium, lavender, mint and lemongrass.
usage
USE FOR THERMAL / SOLAR BURNS
Apply sufficiently to the affected area and massage gently into skin. Use 2-3 times a day for as long as you think it's necessary.

USE FOR INSECT BITES
Apply a sufficient amount to the affected area and allow it to act. Repeat as many times as needed.
For external use only.